PHP Paypal Shopping Website Script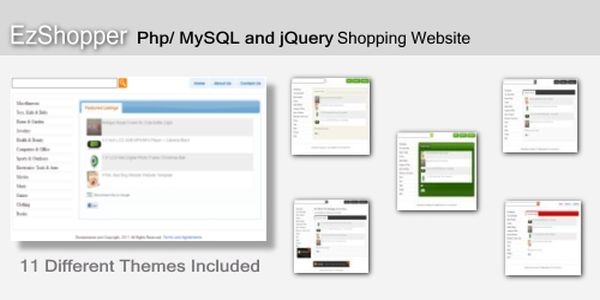 User ratings for PHP Paypal Shopping Website Script.
3 sales,

11569 views
Description
This Script is SEO Friendly and allows anyone to start selling unlimited items from there own website without having to pay for listing fees or final sales fees. We've made it super simple for your customers so that buyers can purchase any item instantly without registering or signing up for an account.

When Using this Shopping Script a Paypal Account is Needed since all payments are secured using Paypals Secured Payment Processing System.

Main Site Features:

- Browse through Categories or Search for Products
- Share Products using Facebook and Google+
- Secured Payments Processed Using PayPal
- Buyers can Purchase Items without an account
- .Xml Sitemap
- .Xml RSS Feed
- Recommended Items on Product Page (displays nice once the site has a few products)
- SEO Friendly Canonicalized Url's
- SEO Friendly Title, Description, Keyword, Robot and Canonical Tags
- Instantly Closes Sold Product and Removes them from the Index
- Sends the Buyer a Thank you message with a link to view there sold item
- Only the Buyer of the item can view the sold item page

Main Admin Features:

The Admin Panel allows the site owner to manage all needed aspects of the website and more from adding and editing listings to changing the settings, theme and layout.

- Add, Edit and Delete Products
- View, Add and Delete Categories
- View Manage and Delete Sold Items
- Hide/ Un-Hide and Edit Pages
- Hide and Un-Hide Advertisements
- Hide and Un-Hide Features
- Move or Hide Top Navigation and Search Bar
- Move or Hide Category Links
- Switch Theme Settings
- Send a Message to a Customer
- Send a Message to Any Email
- Notes, For Personal References

Advanced Admin Features:

- Update .Xml RSS Feed
- Update .Xml Sitemap
- Manage Seo Meta Robot Settings
- Edit and Manage the Robots.txt
- Restore and Optimize Database
- Edit and Manage .Htaccess

Main Site Pages Included:

- Home
- About Us
- Contact Us
- Terms and Agreements
- Categories and Subcategories
- Product Pages
- Search Pages
- Order Completed
- Order Canceled
- Sold Item Page

Compatible Browsers:

We haven't been able to test on any other browsers or mobile devices.

- Firefox 2.0 +
- IE Internet Explorer 5,6,7,8
- Safari 3.2.3 +
- Opera
- Chrome 1.0 +
- Maxthon
- Avant
- Slim
- Shiretoko
- Flock

Installation:

We've made the Installation very simple with an Auto Installer to help
install and get the website setup and configured in as little time possible.

Hosting Requirements:

- PHP any version will work (Built using PHP 5)
- MySQL any version will work
- .Htaccess Files
Comments
You need to
LOGIN
to post a comment.